Skip to Content
Soffit & Fascia Repairs
Shingle Masters Roofing & Construction can take care of all the Soffit Fascia Repairs and other repairs to the exterior of your home. Many times your roof is not the only thing that suffers damages. The under area where your roof hangs over past the wall is called soffit. The trim boards facing you on a home are called fascia. We have extensive experience in refinishing and repairing both. Whether it is a loose hanging soffit piece or some rotting fascia boards, we offer cost-effective solutions to fix the problem.
When choosing materials for your soffit fascia repairs, it's important to not just consider cost but also the durability of the materials and how they will look with your overall design plan. If your soffit and fascia become rotted or damaged, it could impact the integrity of your whole roof. Typical construction in the Tampa Bay area consists of wood soffit and fascia. Newer homes typically have vinyl or aluminum soffit and fascia. Wood fascia is nice but requires more maintenance. Aluminum soffit and fascia can be cleaned easier and don't rot.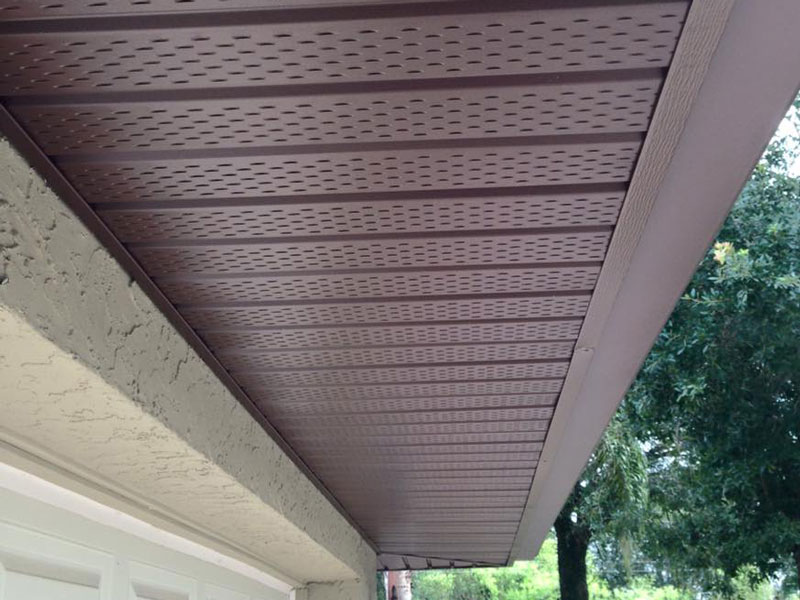 Soffit
Soffit refers to the material forming a ceiling from the top of an exterior house wall to the outer edge of the roof. Soffit bridges the gap between a building's siding and the roof line. Typically the soffit in Florida is ventilated and allows cooler air into the attic. Shingle Masters Roofing & Construction typically recommends replacing all of the soffit material if older wood fascia is very rotten or if the existing ventilated soffits have been painted over.
Fascia Board
Shingle Masters Roofing & Construction will make repairs to wood fascia during the course of a roof replacement. The fascia board is generally the long board that runs along the lower edge of the home's roof. The fascia board is fixed directly to the roof trusses and usually does all the work of supporting the bottom row of tiles and carrying all the guttering. We can also make fascia repairs or whole house fascia replacement during a roof replacement or without disturbing the roof.
Signs Your Home's Soffits and Fascia Need Repairs
Your home's soffits and fascia serve an essential purpose. They are a part of your home's water protection system by providing a sturdy base for your gutters and allowing proper ventilation into the attic. As a homeowner, it's important to be aware of some common signs that you need a trusted professional for soffit and fascia repair services. Contact our team today if you notice any of the following:

Paint Peeling
Paint peeling from the fascia may indicate excessive moisture and water damage. When the paint peels, it exposes the underlining material, putting your home at greater threat of rot.

Moisture and Mold
When your soffits aren't properly ventilating, it may lead to water and mold buildup in your attic. Our team can repair soffits to provide proper ventilation to protect your home.

Sagging Gutters
Gutters are fastened to your home's fascia. If your fascia is beginning to rot, it can cause them to sag and leak. Poorly drained gutters can cause extensive damage to your foundation, landscape, and siding.

Pest Infestation
Rotted fascia and soffits are an easy access point for birds, rodents, squirrels, and bugs to enter your home. If you hear scratching or chewing noise in your walls, consider contacting us for soffit and fascia repair services.
Trust Our Local Professionals for Fascia and Soffit Repair Services
Homeowners throughout the Tampa Bay area choose us for their soffit and fascia repair services. Our knowledgeable and experienced team of professionals has the proper tools and materials to protect your home. Your soffits and fascia serve a vital purpose in protecting your home from water. If they aren't properly maintained, it can lead to devastating damage to your home. As a BBB-accredited business with an A+ rating, you can always count on our team to deliver fast and reliable results. Schedule your assessment today.
Schedule Your FREE Roofing Quote Today
"*" indicates required fields